Our Team
Leader Heights Animal Hospital's experienced support staff strive to provide personalized, compassionate care for our patients and clients alike.

Crystal Bear
Hospital Manager
Crystal has been in management since 1998 and joined the Leader Heights family in 2015. Originally from Lancaster, she currently lives in Manheim with her amazing Husband, Neil, and their 3 daughters, Brittani, Amber, and Rylan. They also share their home with 4 dogs (Lucy, Linus, Kirra, & Bosco), 3 cats (Tutter, Zippy, & Olaf), and their tortoise, Lilly. Crystal has been a certified dog trainer since 2004 and also owns her own small youth theater company. In her spare time, she enjoys, above all, spending time with her family and pets. You can also find her directing or making costumes for her theater or scrapbooking. She is very passionate about Leader Heights and the clients and pets in the community, and is so proud to be a member of the Leader Heights family.
Customer Care Specialists
Theresa Adomis
Theresa grew up on a small rural farm in York, PA. This is where her love for animals of all kinds started. Caring for and feeding all of the animals was never considered work to her. She preferred cleaning the barn over housework any day.
With this love of all animals, it was fitting that she followed her heart and worked taking care of them. Starting as a kennel attendant in 1991, she learned the ropes and advanced to an Assistant followed by a Technician.
Theresa lives in the same neighborhood she grew up in, sharing her home with her 3 dogs (Timber, Grover, & Sammy), 3 cats (Ilean, Shasta, & Daisy), horse (Hoss), donkey (Suzie), some chickens, and whatever else comes along in need of a home.
Theresa's hobbies include gardening, trail riding, hiking, and camping with her horse and dogs.
Teresa Taylor
A York County native, Teresa grew up in Stewartstown and graduated from Kennard-Dale High School. She began working at Leader Heights in 1991 as a receptionist and was later trained as a technician. An avid history buff, she enjoys working on her family tree. She also enjoys hiking, photography, and kayaking. She currently resides in York and shares her home with her dog, Ozzy.
Tammy Cauthorne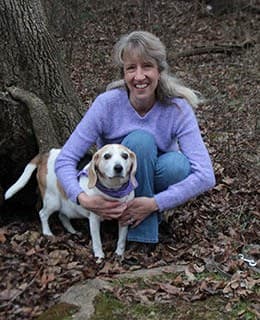 Tammy has been with Leader Heights Animal Hospital since November of 2015 as a Veterinary Assistant. She has grown up with different kinds of animals and this love made her want to pursue a career in the veterinary field. She lives in York with her husband, their dog, cats, and a turtle. She has a step son who lives in Balto.
Tammy also takes care of injured and orphaned pigeons. She enjoys hiking with her husband and dog, music, gardening, and being with her critters.
Kiersten Wentzel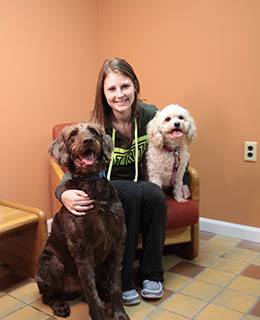 Bio coming soon!

Becky Fuhrman
Bookkeeper
Becky has worked for Leader Heights since 1995. She is married with two grown daughters of whom she is very proud. She has an 18 year old cat named Emily who is loved and spoiled by the whole family. Christmas is both hers and Emily's favorite time of year. Vacationing at the beach with her family is her favorite getaway.